Duncan Macpherson (Alberta, Canada) and David Miller (Vancouver, BC, Canada) are cofounders of Pareto Systems, consultants who help entrepreneurs and knowledge professionals improve their practice management and business development systems. Their clients include Fidelity Investments, Merrill Lynch, Franklin Templeton Investments, American Express, and TD Waterhouse.
---
Recent Title
Breakthrough Business Development: A 90-Day Plan to Build Your Client Base and Take Your Business to the Next Level (John Wiley & Sons, 2007)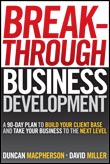 A business development methodology that focuses on a business's most profitable customers to increase income
The authors argue that in most businesses, 80 percent of the business done comes from 20 percent of the clients. This book offers a proven process for maximizing a business's most valuable client assets and developing a personalized business development plan for efficiently mining the untapped potential in customers and prospects. Readers will learn to attract and keep valuable clients while running their businesses more efficiently than ever with a four-step, 14-week program that will knock any business into shape. The book also includes handy forms and templates to help readers create their own personalized business development plans.