Mark Bertolini is a Toronto-based writer of comic books and graphic novels. His first published original graphic novel was the post-apocalyptic tale Long Gone in 2012. He has created and written other titles such the super-smart thriller Knowledge; the grindhouse/sci-fi mashup Scum of the Earth, and most recently, the superhuman crime caper Bastard's Waltz. Mark has also contributed many short stories to such anthologies as Caliber Presents; the mind-bending Imaginary Drugs; and the New York Times Bestselling FUBAR series.
Mark is a father of two and stepfather of two more, and with his partner Julia, he is raising the next generation of avid readers and creators.
More can be found about Mark at https://markbertolini.wordpress.com/, on Twitter: @mark_bertolini, and Instagram: @markbertolini
---
Newest Publication
Bastard's Waltz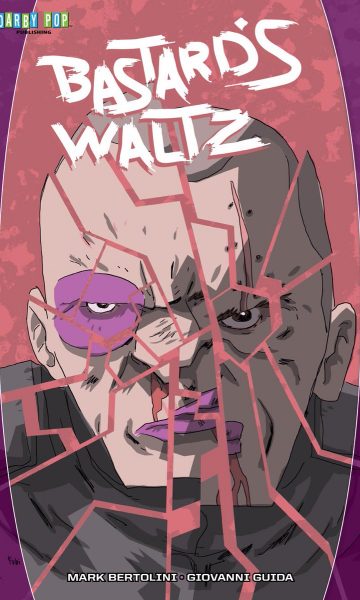 Darby Pop Publishing
John the Bastard is the world's most dangerous supervillain; his name alone has struck fear into the hearts of most heroes for decades. But now John finds himself in the crosshairs of a talented upstart, and only Secret Service protection specialist Ezekiel Sweet can keep John safe from the swarm of psychopaths heading his way. With Sweet a reluctant guardian, a traitor in their midst, and John's skills markedly slipping, who will survive the ultimate showdown?
---
Previous Publications
Imaginary Drugs
IDW Publishing
Imaginary Drugs is a creator driven exploration of life, love, death, and ray gun-toting, multiversal adventure featuring more than thirty different stories from over three dozen strangely gifted voices working in independent comics today. Skirting the fears and fringes and subverting the hopes and expectations of the modern imagination, Imaginary Drugs tackles the possible future origins of human life, our increasingly dependent relationship with technology, and the ass-kicking absurdity of beating a nest of blood-suckers into submission with a cosmically powered baseball bat. High-minded curiosity collides with a joyful barrage of low-fi fun in one of the most engaging reads of your current incarnation. Imaginary Drugs, all the cool kids are pretending to do it.
Breakneck
215 Ink
Collecting the first four issues of the hit indie supervillain series, Breakneck: Knives Out introduces D-list supervillain Ethan Shade, as he becomes the target for every superhero on the planet. Making mistake after mistake, and increasing his bodycount as he goes, can Shade find redemption? Or will he get thrown under the bus? The perfect jumping-on point for readers to see what all the buzz is about.
Ghost Lines
215 Ink
Ghost Lines is a noir look at brainwashing, serial killers, and becoming more than human.
Long Gone
Markosia
When the world's superhumans band together to wipe out all of humanity, only old Abraham Connelly survives. Armed with experimental weaponry and a heart full of rage, Abe goes on a suicide mission to take down as many of the superhuman monsters as he can before they get him.